Frankford Dental Care Patient Information
Frankford Dental Care is a Philadelphia based family dentist practice that treats patients of all ages. We are committed to delivering the highest quality dental care and do so using advanced dental equipment. We are a cosmetic dentist that offers services like checkups, teeth cleaning, crowns, veneers and more.
---
We also perform emergency dentist services that include bonding, root canals, crowns, and bridges. As a local dentist, we create lifelong relationships with our patients and their families and work to ensure that they receive treatments in a comfortable and relaxed environment. Pablo E. Sotelo D.M.D and our staff invite you to schedule an appointment by calling 215-302-1746 and experience why our patients think Frankford Dental Care is the best dentist in Philadelphia.
---
Meet The Doctor
---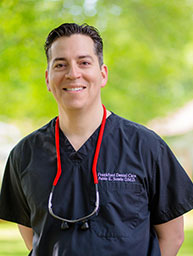 Pablo E. Sotelo D.M.D.
What Being a Dentist Means to Me
Dentistry has given me the opportunity to have an impact on so many peoples' lives, every single day. My patients' smiles are not only ameliorated cosmetically, but more importantly, their self-esteem and confidence rise to a level they haven't experienced in a long time or, in some cases, never at all! Being able to provide care that improves and can even transform the life of one of my patients brings me great joy and I am honored to be able to serve amazing people in such a manner.
To me, every person who comes through my practice doors is a puzzle: they each have unique clinical needs, they have different desires for their treatment, and they come from diverse backgrounds. Taken together, this means I am allowed see each person as the individual that they are, and spend time getting to know them so I can identify and develop treatment paths which are right for them, specifically. I love this challenge and it makes my days enjoyable.
My Education and Commitment to Continuing Education
I graduated from the University of Pittsburgh School of Dental Medicine in 1997, with a Doctorate of Dental Medicine. This was followed by a General Practice Residency at Monmouth Medical Center in 1998. Following my graduation, I immediately started exploring and taking continuing education courses in a broad array of oral healthcare topics. Every few months, in this profession, there is a new technology that can have a positive impact on how we practice dentistry. The same is true for treatment methodologies. I owe it to my patients to stay current on the latest options in order to provide them with the best care available. To do anything less is simply not acceptable.
Myself, and my staff, regularly attend oral healthcare meetings, participate in lectures, conferences, and seminars, and stay abreast of the current dental literature, as well. Continuing education is essential and we are committed to pursuing every opportunity.
Outside of Work
I'm a native of Greensburg, PA, and have lived in Philadelphia for the past seventeen years. When I'm not in the office, you'll often find me playing chess. I also enjoy swimming and am an intermittent workout enthusiast. I'm a passionate traveler, often accompanied by my wife, Ledia.
This is the sidebar content, HTML is allowed.